Hand Tool Headlines
The Woodworking Blogs Aggregator
An aggregate of many different woodworking blog feeds from across the 'net all in one place!  These are my favorite blogs that I read everyday...
Be sure to visit the Hand Tool Headlines section - scores of my favorite woodworking blogs in one place.  Also, take note of Norse Woodsmith's latest feature, an Online Store, which contains only products I personally recommend.  It is secure and safe, and is powered by Amazon.
The Literary Workshop Blog

Making what I need with my hands.
Updated: 1 hour 10 min ago
The other day, a friend of mine arrived at my house (via bicycle) carrying a very nice Stanley #6 fore plane, which he gave to me.  Despite being about a hundred years old, it had only light surface rust.  There's not much blade left, but I'll get a few sharpenings out of it before it absolutely must be replaced.  The sides are dead square to the sole, so I think I've got myself a new shooting plane.
The only real flaw in the plane was a snapped-off horn.  So I'll fix it.
I cleaned off the rust in a citric acid bath and then sharpened up the iron.  This plane's first task is to plane down the break flat and square.  It's easy enough on my shooting board.
The original tote is rosewood, but I didn't have any rosewood scraps on hand, and the nearest color/grain match in the scrap bin is a bit of bocote.  It will have to do.
I attached the bocote patch with an epoxy made especially for plastics, which seems to stick well to oily woods like rosewood.  I used another tote as a template to sketch the horn onto the patch.  Obviously, the repaired horn will be a little lower in profile than the original.
The reshaping was done primarily with a rasp.  When doing this kind of freehand shaping, it is best to make several facets with the rasp, keeping each side as symmetrical as possible.
Each facet is then refined with a coarse file, and then I use the file to smooth over each edge between the facets.  Bocote dust smells a little like dill pickles, in case you were wondering.
.
.
.
.
It's important to check to see if the repair fits one's own hand.  That matters more than whether the tote looks exactly like the original.  After the file work was done, I used a small card scraper to remove the file marks.  Then I sanded with 220 and finally 400-grit sandpaper.  Following the scraper work, the sanding was very quick.
I finished the tote with paste wax.  Eventually the bocote will darken, making the repair less noticeable.  In the meantime, I'll be using this plane regularly.
Filed under:
Build-Alongs
,
Tutorials
I have made two pipes in the last two weeks.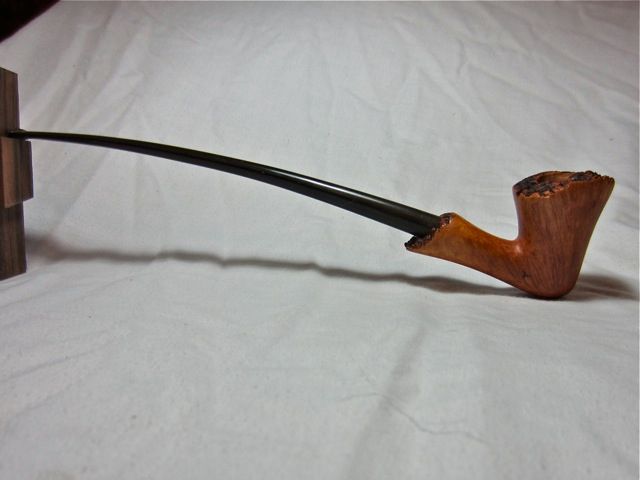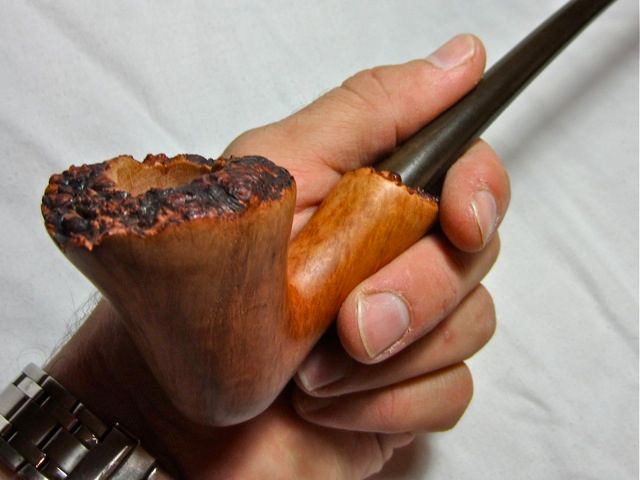 The first is a freehand churchwarden, which was a lot of fun to shape.  The textured top is the natural top of the burl from which briar pipes are made.  I decided to leave a little of the texture around the stem, too.
This particular piece of briar had a few small flaws, but it cleaned up pretty nicely, and the figure is good.
The other pipe was something of an adventure.  It all started with this briar wood blank: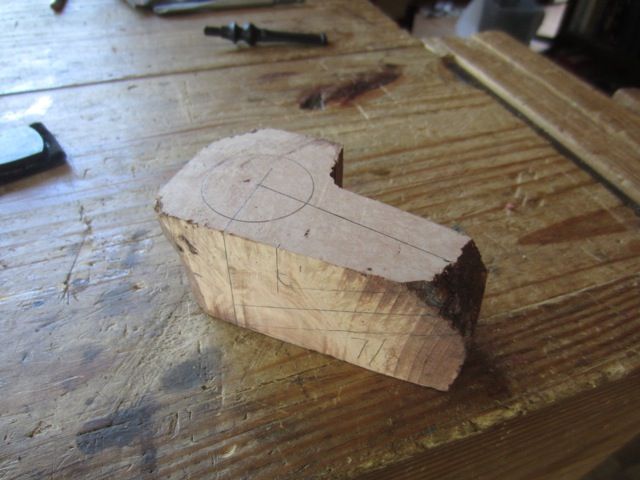 .
The blank was originally cut so that the grain would run sideways, but it was thick enough that, when turned on its side, the grain runs vertically, which is more attractive on most pipes.  This is the result:
This is the twelfth pipe I've made.
I don't mean to turn this into a pipe-making blog, but I've been making them because the work pays.  Eventually, I will post a short tutorial on shaping a pipe with hand tools, but I need to make a few more yet before I can be confident giving advice.
Filed under:
Tobacco Pipes
,
Wood and Woodwork
Over at Lost Art Press, Chris Schwarz has been talking about "vernacular furniture," or "furniture of necessity," which is furniture that, while hand-made, is cheap and simple to construct using a small tool kit.
Much as we woodworkers admire the complexity of crown moldings and mitered dovetails, we are often called upon to build things that are a little simpler. 
For example, when my oldest daughter acquired a box turtle (thanks to her father's inadvertent destruction of its native kudzu habitat), it fell to me to build it an outdoor terrarium.
It had to be built and installed quickly, as the turtle was getting restless in its temporary home: a laundry basket.  No time for dovetails, drawbored mortises-and-tenons, or floating panels.
I screwed together some 2X10s and made a frame lid out of 2X4s.  The fanciest part was the lap joints I used on the lid.  I painted the whole thing to match the house, installed hinges and a handle, and set it in place.  The hardest part was getting the chicken wire in place.  I came away with quite a few scratches on my hands and arms, but it should be raccoon-proof now.
Now that it's done, my daughter is happy, and as far as I can tell, so is the turtle.  And that's what the "furniture of necessity" is really all about–keeping the women happy.
Filed under:
Furniture
,
Home Improvement
,
Musings
When you build things that you hope will outlast you, it's more than disappointing when they fall apart within a few years.  Sometimes it's because of abuse, but more frequently it's the result of a design flaw that only becomes apparent with time.
For example, about five years ago I built three footstools like this one:
At the time, I lacked the confidence (and the skills) to cut an angled mortise.  I had no tools for shaping round tenons, so I decided to try attaching the legs with lapped dovetails instead.
It seemed like a good idea at the time.
The problem is that dovetails are not designed to withstand the kind of force that would normally be applied to a stool.  Whereas a dovetail on a drawer tends to tighten when the drawer is pulled out, this dovetail loosened the more pressure was put on the joint.  Every time I stood on the stool, my weight was trying to force the joint apart.  Eventually, every leg on three stools (that's twelve joints, for you mathematically impaired folks) came loose.
The stools were made of construction-grade pine, so I probably should have given them a proper cremation and started over with fresh materials.  But it's hard to throw your own work away, even when it has failed.
So I decided to salvage the tops for rebuilt footstools, this time with proper joints.
I now own a matching taper reamer and tapered tenon cutter, so I cut new legs from some spare two-by southern yellow pine, shaved them down to octagons with my jack plane, and tapered the ends.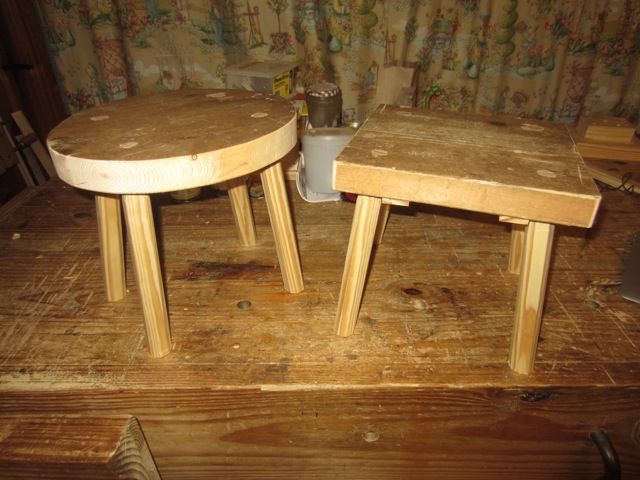 The tapered tenons (which look like upside-down ice cream cones with the tips cut off) fit into matching tapered holes, so every time I stand on the stool, my weight is tightening the joint.  It's a trick that's been used by chair makers for centuries.
Two of the original tops got cut into squares, and the third got cut into an oval.  Each got battens nailed to the bottoms to resist splitting.
The resulting stools look more spindly than the originals, but they are lighter and sturdier.  The splay of the legs (which the crummy photo above distorts) also makes them more stable in use than were the originals.
I am cautiously hopeful that the rebuilt stools will last longer than the first ones did.
Filed under:
Musings
,
Wood and Woodwork
I recently finished my eighth, ninth, and tenth pipes.
All the advice for new pipe makers suggests starting with basic, classic forms, so this is my cherrywood billiard.  Pipes like this are usually roughed out on a lathe.  Getting everything symmetrical with hand tools is a bit harder.  The owner tells me it smokes well.
This commissioned piece is my take on an "egg" shaped bowl.  The tobacco chamber is wide and extra-deep for a long smoke–by customer request.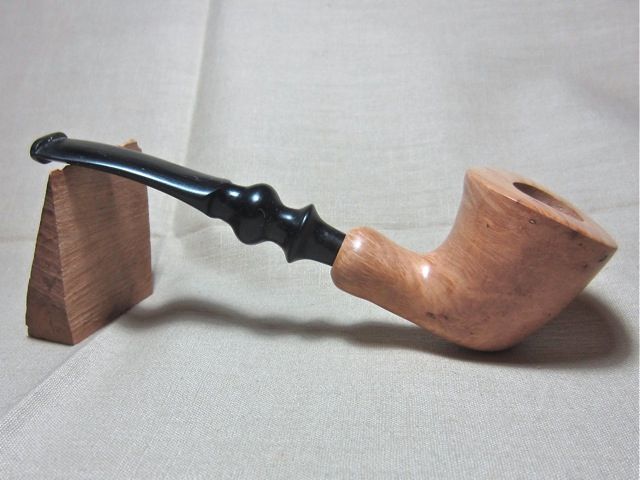 This is a slightly bent freehand I did as a favor for a friend.
I haven't yet found a signature style, so I'll keep experimenting until I find the forms that please both me and my customers.
Filed under:
Tobacco Pipes
,
Wood and Woodwork
This afternoon, I was reading William Goldring's The Pipe Book: A History and How to (1973), which briefly recounts the history of each historical type of pipe and explains how to make a similar one using a few, simple tools.
In the section on making a briar pipe, the author suggests using a saw to remove the initial waste from the briar block.  He remarks:
Briar is a very hard wood, as you have undoubtedly discovered, and this precludes the use of an ordinary wood saw.  Instead, a hacksaw must be used to make these and all subsequent cuts.
If by "ordinary wood saw," he means a dull one, he is undoubtedly right.  However, briar is no harder than some of our native hardwoods, and is often softer than hard maple or hickory.  It seems Goldring had no idea that hand saws could be–or should be–sharpened, so he found the disposable blades of the hack saw more effective on the briar.
A sharp hand saw cuts briar very easily, in fact.  It's a pity that misinformation like this got into print, but it's doubly a pity that Goldring evidently never had the pleasure of using a sharpened hand saw.  I think he would have enjoyed it.
Filed under:
Musings
,
Tobacco Pipes
,
Woodworking Literature
This compost, which has been sifted through a 1/2″ screen mesh, is made from about half leaves and half wood shavings with minimal "green matter" (kitchen waste).  I just dumped the material in the bin and forgot about it, and it took nearly a year and a half for it to rot down completely. Nevertheless, the result is a rich compost with lots of earthworms and nutrients. I used some of it to make potting soil, while the rest will become mulch on my summer gardens.
After a little reading and a lot of experimentation, I have found that there are a few important principles for making good compost, especially from wood waste:
A bin that holds at least 27 cubic feet. A smaller bin will still work, but much more slowly.  A bin at least 3′X3′X4′ speeds up the process, and it will yield about 40 gallons of finished compost.
Lots of green matter. While it's theoretically possible to put in too much, very few home kitchens generate that much.  Put in all your banana peels, apple cores, orange peels, and especially eggshells.
Keep it moist. As I add the brown matter (leaves and wood waste) I soak the pile down with the hose.  A compost bin in the sun will tend to dry out, whereas one in the shade is less likely to get dry.  Check every so often that the middle of the pile is moist but not soggy.
Turn it frequently. I use a big garden fork to loosen up the pile.  Ideally, I would turn a bin 2-3 times a week, but I'm lucky to get it once a week.  But the more frequently you turn the pile, the quicker it will rot down.
You can get a lot fancier with your methods and materials if you like, but even if you choose to dump it and forget it, you will eventually get your compost.
Filed under:
Gardening
,
Home Improvement
Although tobacco pipes have been used in the Americas time out of mind, the iconic wooden tobacco pipe was developed only in the 1850s, eventually displacing the clay pipes that Europeans had been using since the sixteenth century.  The story goes that a French military officer was traveling in Corsica and broke his clay pipe, so he asked a peasant to make him a wooden one.  The peasant made it from the root of a local shrub called "briar," presumably because the wood does not ignite easily.  The officer brought his new, wooden pipe back to France, and an industry was born.
Thus, the art of shaping pipes from briar wood is a relatively new skill, going back less than two centuries.  Compare that with the art of making chests, cabinets, or chairs.  The printed evidence for such crafts goes back to the 1700s, and the documentary evidence goes back millennia.  Look for information in building a rocking chair or a curio cabinet, and you are deluged with information.  Look for information on how to make a pipe, especially with hand tools, and you get much less.
Most briar pipes are shaped on lathes and refined on grinding/sanding equipment.  There is some file work in tight spots, but most pipe makers rely heavily on machines for the bulk of the work.  There are, however, many makers of "freehand" pipes, mostly artsy creations of no predetermined shape.  Freehand pipe makers sell their work at a premium, so I suppose they have little incentive to reveal their methods.
There are a few classic texts on briar pipes, which I am gathering and reading as time allows, but they are leaving me with a lot of unanswered questions about many of the details of the work.  The internet has helped fill in some of the gaps, but I'm still having to figure out a lot of the details on my own.  Being lathe-less, my work thus far has technically been "freehand."  I am currently working with a lot of rasps, files, and card scrapers, improvising work-holding techniques as I go.  I don't like the way most "freehand" pipes look, so I've been experimenting with a more traditional look, yet without the traditional shaping techniques.
I don't yet know how my personal style is going to develop, but I already feel as though my work is sailing in uncharted waters.  For a beginning craftsman, that's not a comforting feeling.
Filed under:
Musings
,
Tobacco Pipes